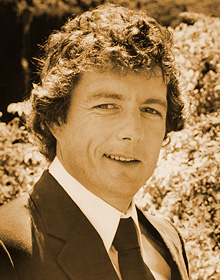 Michael Culhane
is
Blake Carrington
's driver who often spies and tries to find out information he could use. From the time
Fallon
came back from Europe, the two of them were involved in a passionate sexual relationship.

Their affair was all about Michael's biceps and Fallon's nymphomaniac needs. Michael often, in his sleazy ways, discovers information about the Carringtons, reports it to the boss, but when Blake finds out the relationship between him and his daughter even after she marries Jeff Colby, he has Michael beaten up and and fires him.
Later, Michael comes back to the lives of the Carringtons as a man who managed to get rich and unsuccessfully tries to get closer with Blake and Alexis by using their younger daughter Amanda. The only thing he will again be successful at is sex with Amanda but that, too, will come to an end when Amanda finds out how he manipulates people and leaves him.
Occupation
Edit
Ad blocker interference detected!
Wikia is a free-to-use site that makes money from advertising. We have a modified experience for viewers using ad blockers

Wikia is not accessible if you've made further modifications. Remove the custom ad blocker rule(s) and the page will load as expected.